CLARITY CIRCLES - 12 months
CLARITY CIRCLES - 12 month commitment
CLARITY CIRCLES PROGRAM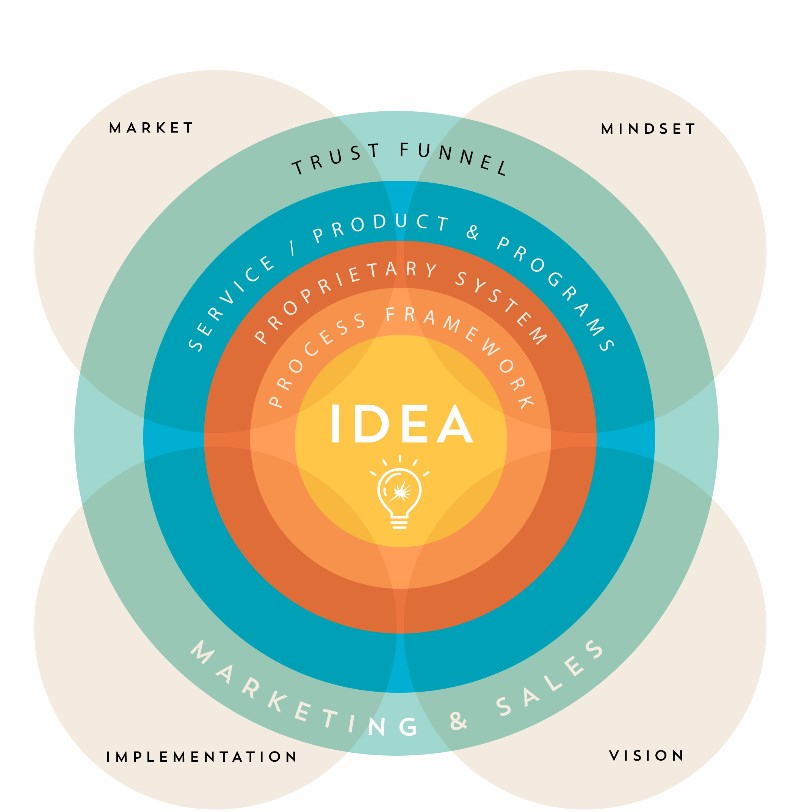 Following THE IDEA METHODTM framework, our work will take place through three distinct phases:
PHASE 1 – MONTH 1 & 2 - DEFINING IDEA & MARKET - WHY & WHO:

Identify the CORNERSTONE IDEA
YOUR PHILOSOPHY
Defining the big IDEA
Identify the market we are impacting - what problem we are solving
Design what kind of LEADER you want to 
PHASE 2 – MONTHS 3 & 4 & ONGOING HOW DO WE SOLVE THEIR NEED? HOW & WHAT

What outcomes do they get?
How do we best support them?
Identify resources, systems, and process for fulfilling this outcome
Design & Build your community platform/ learning platform
Define, Design & Build your program

PHASE 3 GATHER YOUR DUCKLINGS – MONTH 4 & ONGOING LAUNCH & GROW:

Build and implement your TRUST FUNNEL – Your Marketing & Sales
Plan and design your Product LAUNCH
Create ongoing marketing and visibility strategies, including speaking on all stages live & digital (TEDx included)
Use community building strategies to consistently serve, nurture and enrich your community
PHASE 4 SYSTEMATIZE & LEVERAGE MONTH 5 & ONGOING:

Create systems for the tactics and strategies identifies in the previous phases
Build, train & grow a team
Design your next phase of growth
This program is for high-achieving go-getters who want to move extraordinary fast in growing their business. In this program, you have monthly private coaching sessions (45-60 minutes) to get you the CLARITY you need to move forward. I roll up my sleeves and get in the trenches with you, to give you the crucial feedback and tools you'll need to get moving quickly. 
HOW DO WE ACCOMPLISH THIS WORK?
CLARITY CIRCLES PROGRAM includes:
1 Monthly 45'-60' Private Sessions with Dolores (12 total)
2 Monthly Group Q & A Sessions (24 total)
Monthly Private Session (60') with Dolores's Team (Copywriting, editing, technical implementation)
THE IDEA METHOD Online curriculum delivered to your inbox & online learning platform
Private Facebook Group for support, networking and guidance 24/7
LIVE DAY LONG WORKSHOPS (3 total) 
BONUS:
The complete IDEA OF YOU program for CLARITY of self
The complete PATH TO VISIBILITY curriculum to speak on stages like TEDx and other
Email Support
PAYMENT OPTIONS:
UPFRONT INVESTMENT $5,997 (Save $1,200)
MONTHLY PAYMENTS OF $597.00 (Balance can be canceled within the first 3 months to take advantage of upfront savings)
Pricing options